Best Automotive Releases This Year
December 4, 2021
It has been a bangin' year for many car enthusiasts; something new for everyone this year has risen. Japanese domestic market fans have gotten a refreshing revival from the past. American muscle fans have gotten a few new chassis to choose from. Euro fans have definitely gotten a hand full throughout the year.
I have to say, I am pretty excited to see what enthusiasts will create with these new options to the automotive industry.
Anyways, lets dive into these new and exciting chassis!
2022 Toyota GR86 | Subaru BRZ
2022 Toyota GR86

MSRP: From $27,700

Horsepower: 228 hp

Engine: 2.4 L 4-cylinder

Curb Weight: 2,811 to 2,868 lbs

Transmission: 6-speed automatic, 6-speed manual

Torque: 184 lb-ft

 
It's been a while since Toyota revealed the GR86; it disappointed many of us, including me, that this sucker didn't have a turbo slapped under the hood. 
Toyota may not have given us a spooly boy, but they gave us an outright amazing-looking platform to work with. Some key features we all love will include FUNCTIONAL aerodynamics and a moderately aggressive exterior.
The JDM market has been getting kinda crazy lately, in a good way though. When I first looked at the front end of the 86 I was amazed to see this grill. The GR badge screams performance and reminds the driver of just what they have in their possession. The design is quite slick and subtle but looks absolutely stunning. With the design, it has functioning brake ducts, which is always a plus. I will get into break ducts a bit more down below in the BRZ's section. The large grill in my opinion opens up for some really fire designs, big intercooler? Defienetly is large enough to let in enough air without restricting it to much.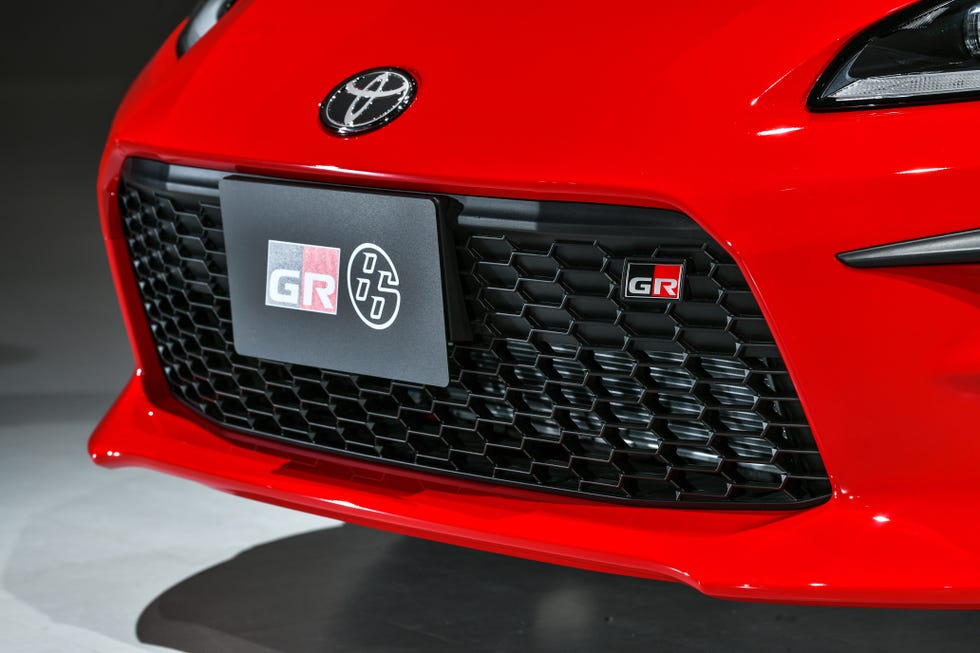 Lastly, these will come standard with a six-speed manual, no judgments, but if the manual transmission isn't your thing, Toyota will offer a six-speed automatic for a $1500 option. 
Toyota has outdone themselves once again, keeping everyone happy, on edge, and excited to see these hit the market!
While we can't get too deep into detail for all of you, the button below will bring you to our review of the Toyota GR86.
2022 Subaru BRZ

MSRP: From $27,995

Horsepower: 228 hp

Curb Weight: 2,815 to 2,881 lbs

Engine: 2.4 L 4-cylinder

Transmission: 6-speed automatic, 6-speed manual

Torque: 184 lb-ft

 
As we all know, the GR86 and the BRZ are identical twins, much applies to be the same to the BRZ as we talked about before with Toyota's GR. 
The only main difference you will see right away is the front grill portion of the platform. 
This looks absolutely stunning! Not only does it look great, but it also performs as it should, aerodynamically. You can see the sharp body lines moving towards the brake ducts to move air not only towards the front brakes but will move air through the wheel well to help with aerodynamics on the platform.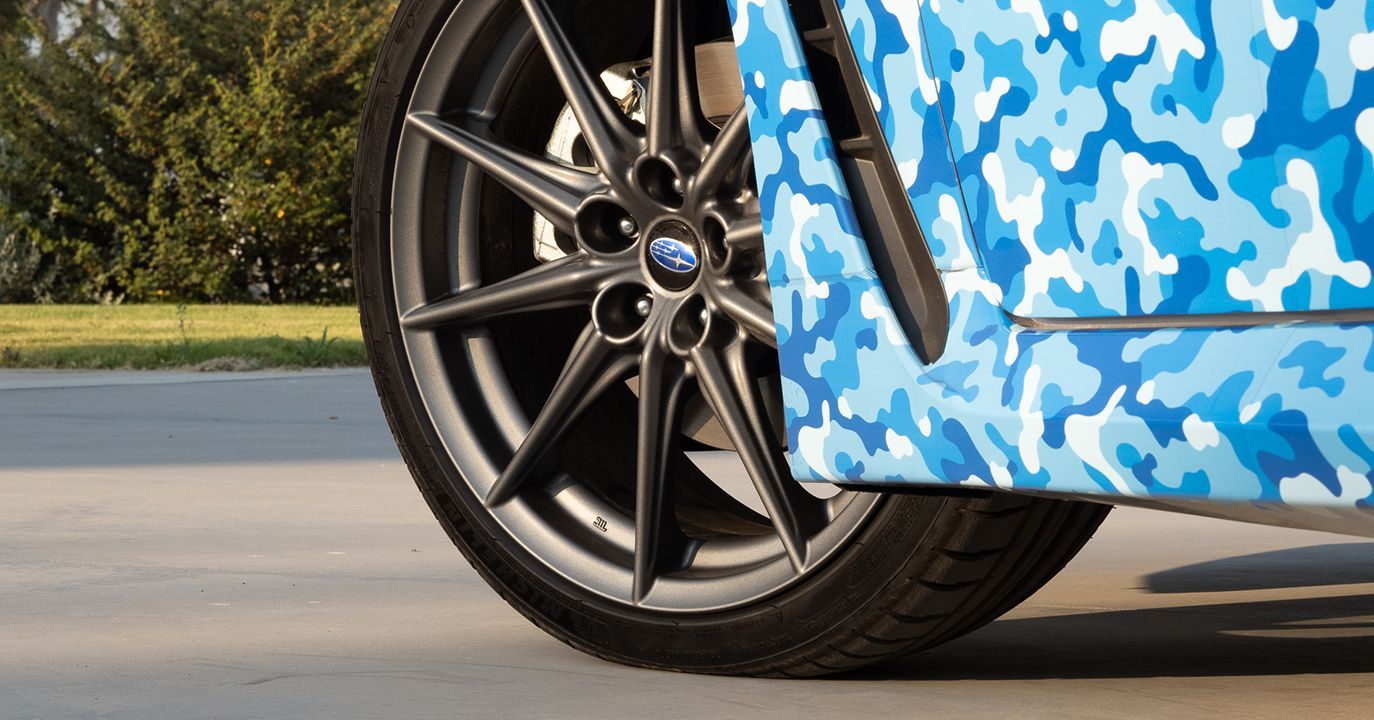 The great purpose for having air slammed into your breaks is to keep them cooled down, this is purposeful when you hit the track and have hard braking. When hard braking is involved you create more heat, this commonly can warp rotors, overheat the brake fluid, and cause you to have a spongy brake peddle. This will decrease your performance and decrease those lap times you want to chase and achieve.
Performance is very much the same, putting out close to the same amount of torque and horsepower. Subaru also will have this platform with a standard six-speed manual transmission. An automatic transmission will also be available to many for an additional $1600.
Affordable price is something we can all love and agree on. Toyota and Subaru decided to start these at $28,000, while the Premium trim costs $31,325. This is amazing to hear as this means we have yet again another affordable platform to build and it's available to a large number of people at any income rate. 
2022 Nissan 400z
2022 Nissan 400z

MSRP: 40,000

Engine: VR30DDTT 3.0 L V-6 Twin Turbo

Transmission: 6-Speed Manual | 9-Speed Automatic with paddle shifters

Horsepower: 400 hp

Torque: 350 lb-ft

Curb Weight: 3,252

 
It would be an understatement to say the Nissan enthusiast community is beyond excited for the 400z. 
First off, Nissan has revived the style of this platform and has many features from all eras of the Z sports car.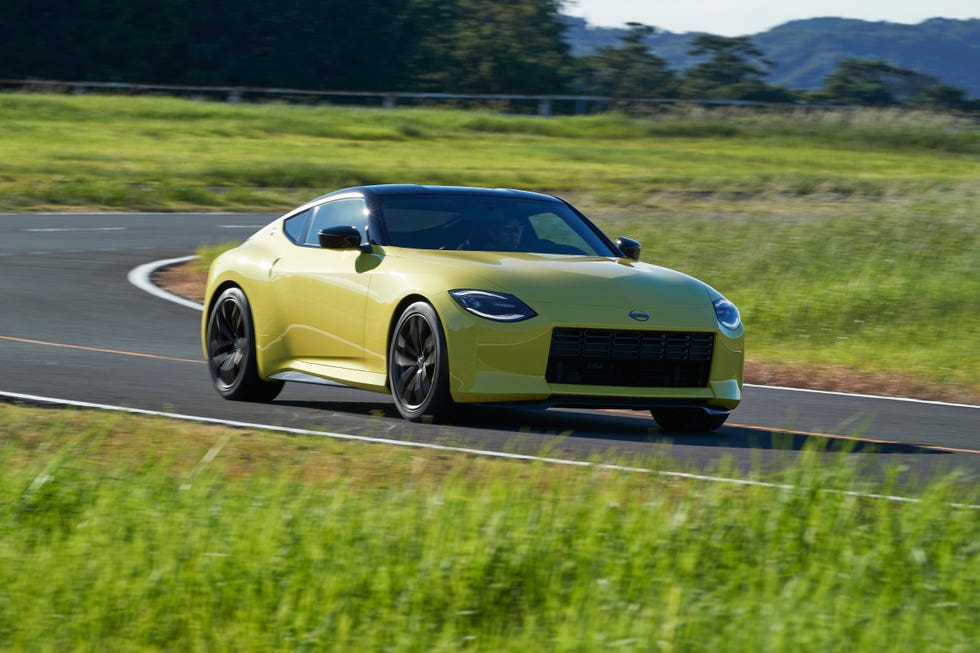 Starting at the front, we see an all-new teardrop headlight design. This design brings the hood, fender, and front bumper in perfectly. The LED running lights connect everything that completes an oval shape.
Many are most excited about the retro designs Nissan has given this chassis. 
Moving towards the back, we have the retro Z badge!
The iconic Z badge is tastefully placed around the car, it is most noticeable on the brake calipers and right behind the window.
Nissan has given us more than enough braking power, I don't know about you, just from this photo the car looks badass. Huge Calipers, drilled rotors, amazing-looking wheels, or rims. 
To quickly mention, the rear quarter panels do show some resemblance to the 370z. It's important to see that it doesn't give quite a bubbly look the Nissan 370z gave.
Finally, as we get to the rear of the car, we get to see that Nissan has kept the aggressive look with the integration of the fastback into the rear. 
The rear decklid is all black and has designed taillights that perfectly bring back the early Nissan Z platforms, for example, the 300ZX that's shown below. 
There's so much more to go over this platform. The button below will bring you to our full review of everything you need to know on the 400z. 
2021 GR Supra
2020 Toyota GR Supra Premium
Advan Racing GT Beyond Front: 19x9.5 +22 Rear: 19x11 +33 | Yokohama Advan Neova Ad08r Front: 275/30 Rear: 295/30 | HKS Lowering Springs
2021 Toyota GR Supra

MSRP: 43,090

Engine: 2.0 L 4-Cylinder | 3.0 L 6-Cylinder

Transmission: 8 Speed Automatic 

Horsepower: 255 to 382 hp

Torque: 295 to 268 lb-ft

Curb Weight: 3,181 to 3,400 lbs 
I think we can all say we wish the GR Supra came with a manual transmission; I myself agree.
BUT, there have been many upsides we can look at for this platform for this year!
Mo powa! This year we got the upgraded A91, giving us an extra 47 horsepower and 3-lb-ft torque. This increase for the 3.0 premium and A91 was gained from a reduction in compression ratio from 11;1 to 10.2;1. This was also accompanied by a new dual-brand exhaust manifold. This had six ports instead of only two, this improved airflow and heat management.
You can't go fast if your platform can not handle it. Toyota this year took their already great handling GR Supra and took it to the next level.
Toyota's suspension before the tune-up and added improvement was already a great performing platform. 
Toyota, off the bat, gave the supra,
Adaptive Variable Suspension
Electrically controlled rear differential
Brembo Breaks
Underbody Aerodynamics
Toyota built this car to handle and balance the design to safely hold a corner and transition into another corner. This creates less fear of encountering a mid-corner bump.
Toyota also added and improved these listed
Strut Tower Braces
Revived adaptive dampers' rates and changed out all bump stops
These new improvements and additions only help the car handle better than before. This platform rewards the driver for driving smoothly, but more importantly, it is more forgiving of mistakes.
Anyone who has sat in one of these beauties knows Toyota built this car for drivers. Toyota gave drivers, 
Sport Seats 
Digital Display
Paddle Shifters
Toyota also gave drivers Apple car play and a wireless charger. These extra features make quite the difference.
Lastly, the double-bubble roof not only creates more headroom but will reduce drag. This typically means it will make the car more aerodynamic.
Overall, Toyota has been giving enthusiasts quite the year! 
2021 BMW M3
2021 BMW M3

MSRP: 69,900

Engine: S58 Twin Turbo 3.0 Inline-six

Horsepower: 473 hp

Torque: 406 lb-ft

Curb Weight: 3840 to 3890 lbs 

Transmission: 6 Speed Manual and 8 Speed Automatic 
BMW enthusiasts have been waiting since 2015 for a new integration into the 3 series. Long-awaited, we have gotten the 2021 BMW M3. 
Yes, tons of enthusiasts aren't too appealed to the new kidney grills. We will let you be the judge of that.
To start, the base model will only come in manual. You heard me right! BMW is on the route of keeping manuals alive. It will put out 475hp and 406 ft-lb of torque. This model will only come in rear-wheel drive.
Moving onto Bmw's competition model, this will only come in auto. Very unfortunate, but I assure you it is for the best as you'll be putting more power into the wheels with more traction.
M3 Competition will put out 500 hp and 479 lb-ft of torque.
It is best to point out that the M3 Competition will also have an AWD option available. I know AWD isn't for everyone. BMW also included an Rwd mode for the M3 Competition.  
Both models are powered by a 3.0L 6-cylinder. This is, in fact, also turbocharged as well.
We all love thick tires for maximum grip. BMW was already one step ahead of us. With flared wheel arches in the rear, the largest tire you could run is still unknown, but this ensures that we will be able to fit a larger tire without any modifications.
BMW paid attention to enthusiasts like us. All models will include slick tops with a carbon roof. They all will also include carbon trimming as well. 
If you love carbon fiber, this platform is filled with tons of it, as you can see from some of these photos as well.
Head over to our review of the 2021 BMW M3 by clicking the button below!
2022 Golf R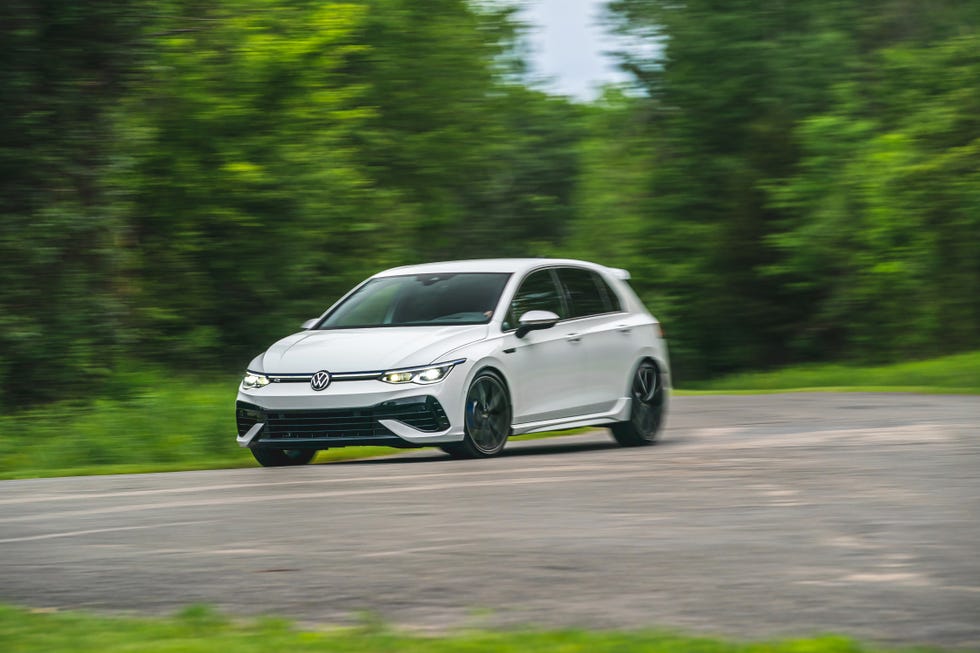 2021 Volkswagen Golf R

MSRP: $43,645

Horsepower: 315 hp

Curb weight: 3,417 to 3,481 lbs

Engine: 2.0 L 4-cylinder Turbocharged

Torque: 280 to 295 lb-ft

Transmission: 2.0T Six-Speed Manual and 2.0T DCT Six-Speed Automatic
Time to get you hot hatch enthusiasts some love. Volkswagen has released the next generation for the hot hatch Golf R. Some new features that many of you will love, the Golf R has kept its Awd system but is slightly different than the last generation.
All new to the platform is Volkswagen's drift mode. To understand it a bit more, let's learn more about VW's all-wheel-drive system. The all-new system is called 4Motion, moving away from the Haldex clutch pack for the rear end.
The way this works is quite simple. Golf R has a dynamic computer that can vary which axle to send the right amount of torque too. For example, let's say you are mobbing in drift mode. You turn your wheel and stomp on the throttle. The computer will send torque to the side you're turning to help your car rotate. Pretty dang cool if you ask me!
Who doesn't love big breaks? Volkswagen has decided to gift the car with bigger breaks for more stopping power. You can't go wrong with this since we're gaining about 20 more horsepower than the last generation. 
Along with the larger breaks, it will feature drilled rotors; this is a great touch to keep the stopping power at the highest performance possible. Many people that have driven the car already have said the breaks bite hard and stop the car with no problems. 
While we have great breaking, the question still remains. How is the handling? From reviews from many that have gotten to drive the Golf R early has said it corners great and exits without a hiccup. We, as enthusiasts already know, we're going to try to push the limits. So we will have to wait to test this ourselves.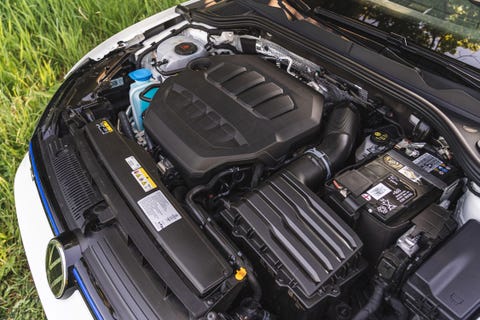 For the powertrain in this puppy, we are looking at a 2.0 Liter 
A four-cylinder turbocharged engine that makes 315hp and 310 ft-lb torque.
This will also come with a six-speed manual which I believe will be loved by most. It will be available on a six-speed DCT automatic. The real fight will be which one is faster and which one can handle more power. The real answer will arise as enthusiasts get their hands on the car and start testing its limits. 
Honorable mentions!
There were tons of new platforms released this year, and we don't want to keep them hanging. Some of the highly anticipated releases that we loved were,
2022 Subaru WRX
2022 Honda Civic Si
2022 Acura Integra 
2021 Ford GT500
2021 Chevrolet Corvette Stingray
As we didn't get to review these platforms, we look forward to the release of all of these in the next coming year. It's been a baller year with coming back from 2020. We are getting to see many enthusiasts come back out to the car scene and see what everyone has created.