Scion FR-S Wheel Fitment Guide
Author:
Sterling Feathers
November 4, 2020
So you own a Scion FR-S, Subaru BRZ, or Toyota GT86 or maybe you're just looking to pick one up and want to know what wheels are going to fit. The FR-S, BRZ, and GT86 all share the same platform meaning that the fitment is the same across the board. This guide will apply to all of those cars and will have links to anything you want to check out further!
SEE POPULAR WHEELS HERE! SEE FR-S FITMENT PHOTOS
Table of Contents


Fitment Information
Here's where you'll find all of the basic information that you need for fitment on this platform. The Scion FRS uses a 5x100 bolt pattern with wheel diameters usually ranging from 17 to 20 inches, widths from 7 to 8.5 inches, and offsets from +35 to +48. This is an absolutely massive platform so you'll see quite a bit of variety when it comes to fitment.
Bolt Pattern: 5x100
Diameter Range: 17 - 20 Inches
Width Range: 7 - 8.5 Inches
Offset Range: +35 - 48


17 Inch Wheels
Quick links


Build Breakdown
This is more of a meaty setup that's built for spirited driving rather than sitting at a meet, though it looks pretty good too. This particular car is running a 17x9 +35 Enkei RPF1 with a gold finish, wrapped in a set of 225/40 Firestone Firehawk Indy 500 tires and sitting on Tein Flex Z Coilovers. This setup will give you nearly flush fitment without having any rubbing issues. This would be perfect for the owner that wants to focus on the driving dynamics of their car and maybe take it to the track a few times.


Enkei RPF1 Review
Arguably the most iconic aftermarket wheel ever made, the Enkei RPF1 brings a simple yet aggressive style to any build while having lightweight construction and a ton of stress tolerance. This has always been a go-to wheel for anyone that does performance driving because it's so light and so strong without completely destroying your wallet.


Firestone Firehawk Indy 500 Review
The perfect balance between performance and comfort. The Firestone Firehawk Indy 500 is a very popular tire with performance enthusiasts because of its relatively low cost, low road-noise, and fantastic grip. These tires make the perfect addition to any daily driver that tends to see the occasional twisty back road or autocross weekend. Not to mention, they look very aggressive which can help tie the entire build together. Nobody wants an ugly tire.
Pros:
Low Road Noise
Great Looks
Good wet and dry performance
Firestone Firehawk Indy 500 Specs:
Price: $896
Speed Index: W
Tire Type: Summer/Performance
Warranty: Full Manufacturer Warranty


Tein Flex Z Coilovers Review
Tein is the local favorite for entry-level coilovers. Not only do you get a brand that has years of fantastic reputation in motorsport, but you get their Flex Z Coilovers for an incredibly low price. This perfect way to give your FR-S a massive handling upgrade while getting lower to complete that fitment. Gels even runs these on his FR-S and loves them! The Flex Z system will be the perfect set of coilovers for daily driving. This entire build is definitely the right balance between performance and practicality.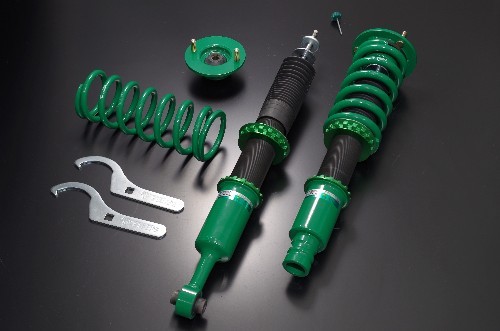 More 17 Inch Builds
Wheel Size: 17x9 +40

Tire Size: 245/40/17
Suspension: Coilovers
Wheel Size: 17x9 +38

Tire Size: 245/40/17
Suspension: Coilovers


18 Inch Wheels
Quick links
Build Breakdown
Bumping it up to more of a show style, this FR-S is sitting on 18x9.5 +22 Kansei Tandem wheels wrapped in a set of 225/35 Nankang NS-25 tires and riding on Air Suspension. Now obviously, air suspension helps a ton with getting the fitment you want but we want to be thorough and show you guys what kind of fitment you can get no matter the suspension setup. This one isn't too aggressive when compared to some of the other bagged cars we see. The camber isn't over the top and the whole build just looks clean.
Kansei Tandem Review
Kansei has taken the JDM scene by storm. Their wheels are designed specifically for those heavily modified Japanese platforms like the 240sx, 350z, RX-7, and of course, the Toyota 86 platform. The Tandem is one of their newest and most popular models. This brings back the retro, JDM drift style and comes in at a great price. The Kansei Tandem is one of our favorite wheels to come out recently because it looks so aggressive yet so clean. It can fit on just about any build from a track or drift weapon to a bagged show car.
Nankang NS-25 Review
One of our most popular all-season tires. The Nankang NS-25 is a tire that's more geared towards performance driving without actually being a performance tire. It offers great traction in wet and dry conditions, a comfortable ride, and a up to a 50,000-mile warranty. The Nankang NS-25 has become a go-to tire for someone who wants a dependable all-season tire with better than average grip. Oh, did we mention that these are one of the best bang for your buck tires we offer?!
Pros:
Low Price
Better grip than the average all season
Good warranty
Nankang NS-25 Specs:
Price: $676
Speed Index: H
Tire Type: All Season
Warranty: Up to 50,000 Miles
AirLift Air Suspension Review
AirLift is the leader in air suspension and for good reason. If you want the absolute most functionality, performance, and adjustability, air suspension is definitely the way to go. AirLift has built a name for themselves thanks to their quality components and next-level technology. Air suspension will be able to give you the lowest ride height possible and the ability to lift the car back up to a near-factory ride height for daily driving.
More 18 Inch Builds
Wheel Size: 18x8.5 +33

Tire Size: 225/40/18
Suspension: Coilovers
Wheel Size: 18x9.5 +45

Tire Size: 265/35/18
Suspension: Coilovers

Now if you plan to go widebody and air suspension, you could fit a 19-inch wheel, but that gets into some heavy modification territory so we'll leave that out of this blog. If you want to see cars running 19-inch wheels, click the button below!