Are Coilovers Worth It? - BC Racing Coilovers Review
Author:
Sterling Feathers
November 6, 2020
BC Racing has become one of the most popular suspension brands currently for sale today. They offer a wide range of coilovers that cater to the different needs of each build. We recently installed them on a 2016 Volkswagen Golf GTI and have been daily driving the car for about 9000 miles with the BC Racing BR Series Coilovers.
Today we'll take a look at who BC Racing is, talk a little bit about the car we've been driving, and give feedback on ride quality, performance, and pricing.
Table of Contents
About BC Racing
BC Racing is one of the largest dealers of custom and pre-built aftermarket suspension products. Founded in 2006, they now offer over 1100 different suspension kits. Their product line includes springs, coilovers, struts, and multiple other replacement parts with different series of coilovers that utilized various forms of technology to handle everything from a daily driver to a full-blown racecar.
About the Car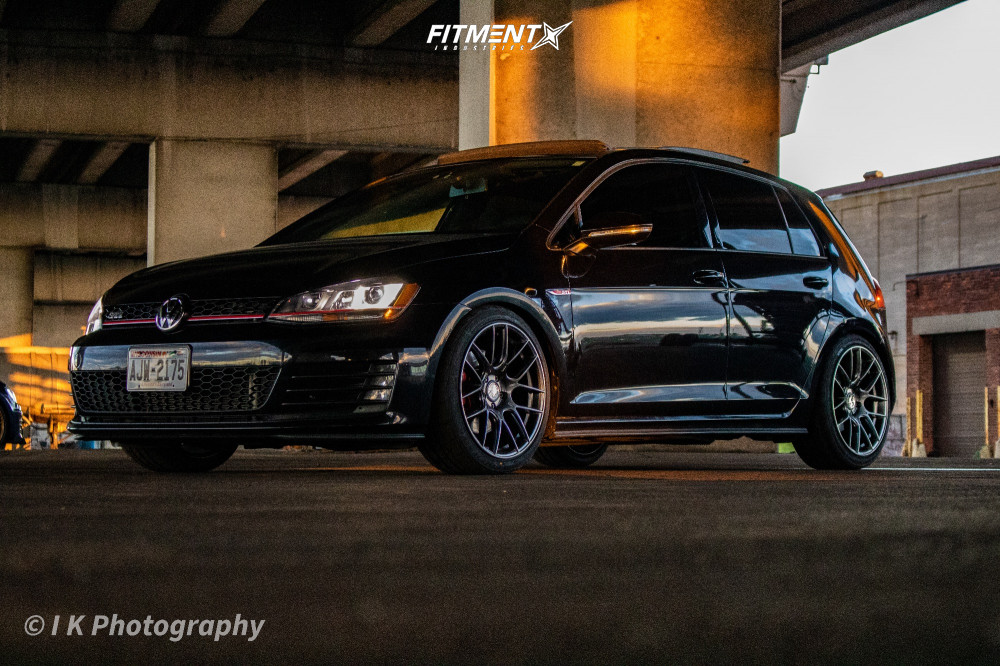 As we said, the car we installed the BC BR Series Coilovers on is a 2016 GTI. This is a great platform to install the coilovers on because the GTI has such a huge following and is already known for being a fun-to-drive car with a pretty good factory suspension setup. Most of the time aftermarket suspension systems reign superior in performance but lack ride quality and comfort. 
Some other mods this MK7 is running include 18x8.5 +35 Aodhan AH-X wheels, 225/40 Firestone Firehawk Indy 500, an Injen cold air intake, catless downpipe, and a stage 2 tune.
Ride Quality
Starting off with the first part of this review, we have the ride quality of the BR Series Coilovers. Let us start by saying that coilovers typically make the ride a little more harsh due to the increased stiffness of the suspension components as well as being closer to the ground. However, this is not the case with the BC Racing coilovers. At least not on the MK7 GTI.
The ride quality was actually improved for the most part. There are exceptions to this like crossing railroad tracks where the ride gets pretty harsh. But around town and on the freeway, the coilovers soak up bumps really well, arguably better than the stock suspension.
Performance
Now, if you're wanting to know more about how they perform, maybe because you like to do autocross or trackdays on the weekends or just hit up the occasional back road.
The BC Racing BR Series coilovers are the entry-level lineup of BC Racing which means, yes, they're designed to provide a performance improvement over factory, but we can't expect them to deliver track record breaking performance.
The BR Series offers adjustment knobs for fine tuning compression and rebound while of course offering height adjustment.
As a daily driver, these coilovers make the GTI even more tossable. Let's just say, roundabouts are a ton of fun. The BC's eliminate a large amount of body roll and feel incredibly stable when pushing the GTI's Indy 500 tires to their limits.
We have noticed that the new coilovers make the back end of the GTI a little more lively as well which is a lot of fun in a front wheel drive car.
They're able to handle autocross well too which means you can comfortably drive a car with this setup to the track, have a ton of fun and set some competitive lap times, then drive comfortably back home. We can't complain at all in this category.
Price
Finally, let's talk about cost. The BC Racing BR Series coilovers sit right under that $1000 mark making them an absolutely INSANE bang for your buck setup.
There's a reason that the BR Series coilovers from BC Racing have been the go-to setup for so many enthusiasts. They don't break the bank and offer an all-around complete package that will completely transform how your car looks and performs.
Cars Running BC Racing Coilovers