2015 - 2020 Subaru WRX Wheel Fitment Guide
November 11, 2020
So you own a Subaru WRX or maybe you're just looking to pick one up and want to know what wheels are going to fit. This guide will apply to all of those cars and will have links to anything you want to check out further!
SEE POPULAR WHEELS HERE! SEE WRX FITMENT PHOTOS
Table of Contents
Fitment Information
Here's where you'll find all of the basic information that you need for fitment on this platform. The Subaru WRX uses a 5x114.3 bolt pattern with wheel diameters usually ranging from 17 to 20 inches, widths from 7 to 8.5 inches, and offsets from +35 to +48. This is an absolutely massive platform so you'll see quite a bit of variety when it comes to fitment.
Bolt Pattern: 5x114.3 mm
Diameter Range: 17 - 20 Inches
Width Range: 8 - 10.5 Inches
Offset Range: +15 - +48
18 Inch Wheels
Quick links
Build Breakdown
Wheels: Work D9R 18x9.5 +38
Tires: Dunlop Sport Maxx RT 245/40
Suspension: Tein Flex Z Coilovers
Our first build breakdown starts with a 2017 WRX with Tein Flex Z Coilovers, Work D9R wheels, and Dunlop Sport Maxx RT Tires. This is a super easy setup because it doesn't have any rubbing and the owner didn't have to do any fender modification to get this fitment. This would make a great daily driving setup that offers an aggressive look without being over the top about it. The lack of fender gap is also incredibly satisfying to look at.
Work Emotion D9R Review
The Work D9R is no stranger to the scene. It has made it onto many of our top 5 lists and we even go as far as to say that the D9R looks good on just about any platform. Featuring an absolutely massive range of sizes and finishes, a timeless multi-spoke design, and of course the hype of owning a true set of Work wheels, the D9R has easily become one of our favorite wheels on the market.
Dunlop Sport Maxx RT Review
The Dunlop Sport Maxx RT is the company's performance tire that features an adaptive compound. What this means is that when a standard tire goes down the road it tends to ride over the uneven surfaces which makes the tire actually have less contact with the road at some points.
The compound that Dunlop uses here allows the tire to conform to the uneven surfaces and always gives the most possible contact with the road beneath you. This maximizes grip on a lot of different surfaces making the Sport Maxx RT a great tire for someone who does autocross or track days.
It also tends to be a little more comfortable when daily driving than some of the competitors, just don't expect it to do well in adverse conditions like freezing temperatures, snow, or ice. It is a performance summer tire after all.
Pros:
Low Road Noise
Adaptive Tire Compound
Tons of dry grip
Dunlop Sport Maxx RT Specs:
Price: $1264
Speed Index: W
Tire Type: Summer/Performance
Warranty: Full Manufacturer Warranty
Tein Flex Z Coilovers Review
Tein is the local favorite for entry-level coilovers. Not only do you get a brand that has years of fantastic reputation in motorsport, but you get their Flex Z Coilovers for an incredibly low price. This perfect way to give your WRX a massive handling upgrade while getting lower to complete that fitment. The Flex Z system will be the perfect set of coilovers for daily driving. This entire build is definitely the right balance between performance and practicality.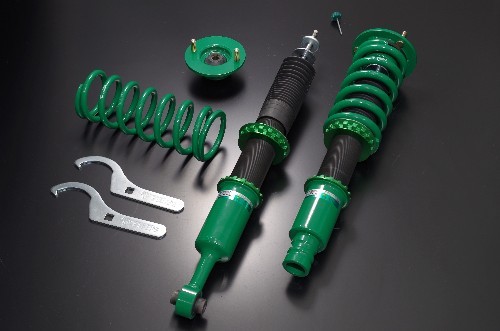 19 Inch Wheels
Quick links
Build Breakdown
Bumping it up to more of a show style, this WRX is sitting on 19x9.5 +15 ESR SR08 wheels. This one isn't too aggressive when compared to some of the other cars we see.
ESR SR08 Review
ESR is dedicated to providing the utmost excellence in customer service and manufacturing quality wheels. With amazing styles, elegant designs, and the highest quality standards, these wheels will make any car feel luxurious. ESR Wheels produces cast, rotary forged, and multi-piece wheels. At ESR Wheels; every order receives personal attention throughout the process to guarantee quality and your satisfaction. ESR has taken the car scene by storm. The ESR SR08 is one of our favorite wheels to come out recently because it looks so aggressive yet so clean. It can fit on just about any build from a track or drift weapon to a bagged show car.
Achilles ATR Sport 2
Established in 2005 out of Indonesia and seen on cars globally, Achilles tires are considered a benchmark of quality among its competitors. Achilles is recognized for its versatile product line and has a tire for just about anyone in the market. Using innovative technology and utilizing the knowledge from their parent company, MASA, they have been able to create some of the greatest tires in the industry. The Achilles ATR Sport 2 has become a go-to tire for someone who wants a dependable performance tire with better than average grip. Oh, did we mention that these are one of the best bang for your buck tires we offer?!
Pros:
Low Price
Better grip than the average performance tire
Good warranty
Achilles ATR Sport 2:
Price: $620
Speed Index: W
Tire Type: Performance
Warranty: Full Manufactuer Warranty
Stock Suspension
This owner has decided to keep their stock suspension on this car. Though we don't necessarily agree with this they have their reasons. If you are dailying your car every day then this would probably be your move. But we do obviously recommend getting suspension of some sort. There are plenty of affordable options out there that we love! Look into Tein above!
More Builds from Our Gallery
Bagged/Stance Setup
Wheels: CCW Classic, 18x10 -35
Tires: Achilles ATR Sport 2, 205/40
Suspension: Air Lift Performance Air Suspension
Performance Daily Driver
Wheels: Kansei Corsa, 18x9.5 +22
Tires: Hankook Ventus V12 Evo 2, 235/35
Suspension: BC Racing Coilovers