Fastest Cars For Under $10k
Author:
Sterling Feathers
December 12, 2020
Cheap cars and fast cars don't usually fit the same category, but we're trying to prove that you can get fast cars under 10k.
You don't need to have deep pockets to get a fun car. That's why we put this list together to help you find a few more options in the $10,000 range that would be fast or at least have the potential to be fast in this price point. Let us know how we did or if you have another car that you think should be on this list in the comments below!
Table of Contents
1. C5 Corvette
How can you talk about cheap power and not mention the Corvette? Specifically the C5 generation.
The C5 started in 1997 and ran to 2004. This car was a force to be reckoned with; boasting a naturally aspirated 5.7L LS1 V8 engine and a T-56 6-speed manual transmission, this 350 horsepower monster was able to get you to 60mph in around 4.5 seconds.
Those are some impressive numbers for a car at that time.
Find Wheels That Fit Corvettes Here!
Luckily, GM sold a ton of these cars, and thanks to some cheaper materials and an interior that didn't date well at all, the C5 Corvette has plummeted in value in recent years with many base models finding their way under $10,000. This really is the performance bargain of a lifetime.
Pros:
Reliable V8 Power
Cheap to maintain and fix
Parts are everywhere
Balanced platform perfect for racing
Cons:
Cheap Materials
Dated Interior
2. Hyundai Genesis Coupe
Next we have the Hyundai Genesis Coupe. This car sits very near and dear to my heart because I used to own one! The Genesis Coupe only had two generations, coined the BK1 and the BK2.
The BK1 generation was available with a 2.0L Turbo 4 Cylinder making 200 Horsepower or could be equipped with a 3.8L V6 that made 306 horsepower. In the second generation, the formula stayed the same but both engines gained a few extra horsepower. The 2.0L was bumped up to 275 horses while the 3.8 went to 350 horsepower.
Find Wheels for Genesis Coupe Here!
Both engines had their pros and cons. The 2.0L in the BK2 was loosely based on Mitsubishi's 4B11T, found in the Evo X. These engines had a massive amount of aftermarket support but often had issues when you started to tamper with them.
The 3.8L was a powerful and reliable engine that made a godly noise. No seriously, next time you find a 3.8 Genesis Coupe, have the owner rev it for you. You'll fall in love.
Unfortunately, this motor didn't have as much support as the 2.0L unless you had another $5k to drop into the motor for a turbo kit. Both generations had the option of a manual transmission but were prone to issues.
The Genesis Coupe offers a fun, RWD platform with great looks for a really good price.
Pros:
Tons of options and trim levels
Some models had an LSD and Brembo Brakes
Powerful engine options in the BK2 Generation
Great Looks
Beautiful exhaust note from the 3.8
Cons:
Cheap interior
Less aftermarket support than competitors
Fragile manual transmission
2.0L in the BK1 is a dog
CHECK OUT Genesis Coupes HERE!
3. Nissan 370Z
The Z platform will always be a staple in the car community and the Nissan 350z has held the crown for being one of the best budget cars for enthusiasts.
But now, we're starting to see the 370z come down under the $10,000 mark as well. The jump into the 370z gets you a 3.7L naturally aspirated V6 that puts out around 330 horsepower and 270-pound feet of torque.
Pair that with a 6-speed manual transmission and a limited-slip rear differential and you have the perfect recipe for an enthusiast car.
It goes without saying that from the outside, the 370z looks more expensive than it is, but this is no Mercedes when it comes to the interior. No matter what model year you get, most of the interior pieces have been the same for the last 12 years.
If you want a beautiful car with tons of aftermarket support and a massive cult following, the 370z is hard to beat for under $10,000. You get reliable performance and great looks from a historic platform.
Pros:
Tons of aftermarket support
Reliable base engine
Looks more expensive than it is
Can sound really good
A lot of car for the price
Cons:
Cheap interior
Same styling for 12 years
Tough to make big power without boost
4. E55 AMG
A car that is often forgotten or overlooked but definitely deserves a spot on this list is none other than the Mercedes E55 AMG. Featuring a massive 5.4L Supercharged V8, 470 horsepower, and over 500 lb-ft of torque, the E55 AMG is the ultimate combination of power and luxury on a budget.
We'll get this out of the way first: if you're planning on picking one of these up, you're going to want to be mechanically inclined, especially with German platforms. The E55 can easily rip all of your money from your bank account if you take it to the dealer for every service.
BUT, if you are mechanically inclined, this is by far the most powerful and luxurious car on this list. With minor modifications, the E55 AMG will be able to take down a large majority of the cars in your town and give you a back massage in the process. This is the best horsepower per dollar car on the entire list.
Pros:
Massive power numbers
Luxury features that were way ahead of their time
Timeless styling
Insane exhaust note
Easy to make more power
Cons:
Parts are expensive
Handling with the air suspension isn't great
Electrical issues are common
5. CTS-V
Want a sleeper that brings reliable power with low maintenance costs? The Gen 1 Cadillac CTS-V might be the perfect car for you.
Powered by the popular 5.7L LS1 V8, the Cadillac CTSV makes 400 horsepower and 395 lb-ft of torque and is driven by a 6-speed manual transmission.
Since the LS1 was used in a lot of different GM applications, parts are everywhere and the aftermarket support is almost endless. This motor is known for its reliability and simplicity which means you can throw boost at it without much worry.
Most parts can be sourced from your local junkyard so costs are almost always low and let's face it, the LS1 makes a glorious noise.
The Gen 1 CTS-V isn't as luxurious as you'd expect from a Cadillac but keep in mind, this is a mid-2000s GM product, interior wasn't exactly the focal point of this era. But if you want a sleeper that is powered by bald eagles and freedom, the Gen 1 CTS-V is an absolute bargain.
Pros:
Cheap and Reliable Powerplant
Parts are everywhere
Sleeper Status
Manual Transmission
Cons:
The Interior is very outdated
6. Ford Taurus SHO
An even bigger sleeper than the CTS-V is the Taurus SHO. Sure, it doesn't make as much power nor as good of a noise, BUT this car is even more subtle than the CTS-V. With a 365 horsepower Twin-Turbo 3.5L V6 engine, the Taurus SHO is no slouch and has tons of tuning potential.
Stock SHO's will have a 0 to 60 mph run of 5.2 seconds and a quarter-mile of 13.7 seconds at 103 mph. Those are respectable numbers for a boat like this.
Find Wheels For the Taurus Here!
Performance aside, you get the highest trim level of the Taurus with some of the cars including features like heated, cooling, massaging seats, power sunshades, and heated rear seats. The SHO also received sportier seats, steering wheel mounted paddle shifters and ambient interior lighting.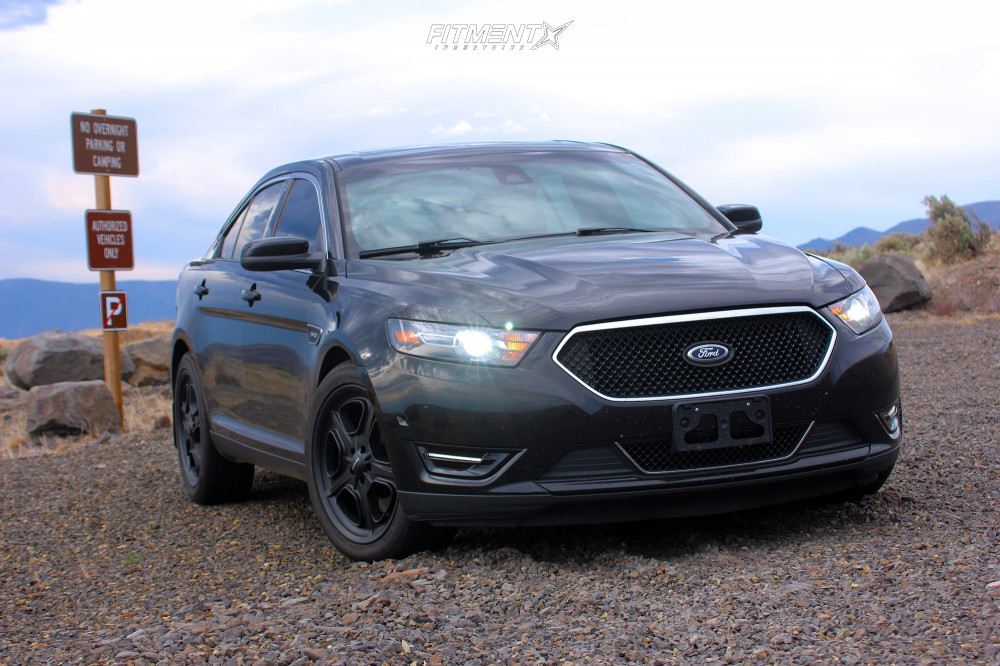 This is a great all-around car that truly makes a perfect daily driver. The V6 is decent on gas, the AWD ensures traction in adverse conditions, the interior is loaded with features, and the engine has plenty of factory power with tons of tuning potential.
In fact, I personally watch a full-bolt-on, tuned Taurus SHO take a new Camaro ZL1 1LE in a drag race. Pretty wild for a "grandpa car".
Pros:
AWD
Plenty of Tuning Potential
Loaded with Features
Cons:
7. Neon SRT4
Alright, before you start tearing us apart for this car only having 230 factory horsepower, hear us out. We picked the SRT Neon because you can get them so cheap and make impressive power numbers for under $10,000. Coming in at only 2900 pounds, the SRT 4 Neon is a lightweight turbocharged go-kart.
Clean, unmodified examples are becoming harder and harder to find but you can get a lightly modified SRT4 for well under $10,000, throw some basic mods and a tune on and have a ton of fun. If you want a rowdy front-wheel-drive economy car, it doesn't get much rowdier than the SRT Neon.
If you're looking for a great interior, run far away from this one. The interior is something you'd honestly want to hide in this car. Everything is cheap plastic, has tons of rattles, and is just plain ugly.
But that's not the purpose of this car. The SRT Neon was made for the enthusiast that didn't care about amenities and just wanted a powerful, lightweight car to throw around.
Pros:
Tons of mods available
Wild engine sound
Lightweight and kind of terrifying when built
Cons:
Terrible interior
Hard to find a clean one
Transmissions can be weak
8. BMW 335D
The BMW 3-Series is no stranger to the aftermarket car scene. With the 335I being one of the most popular platforms in BMW's lineup for the enthusiast community, its diesel sibling, the 335D is often overshadowed. However, we feel this shouldn't be the case.
The BMW 335 the offer is an insane amount of torque for the money and is known as being one of the best sleeper cars on the market to date. Featuring 265 hp and a whopping 425-pound feet of torque the BMW 335D is it able to achieve a 0 to 60 time of just 5.7 seconds.
These cars are also easily tunable to make over 600 wheel torque which, in a three series BMW, is an absolutely massive amount. Pair that with the reliability of a diesel engine and getting over 40 miles per gallon and you have yourself an amazing bang for your buck performance vehicle that will last you a very long time.
Pros:
Massive torque number
Diesel reliability and fuel economy
You're likely to be the only one at a car meet
Cons:
Interior is basic if not optioned with iDrive
No coupe model
Automatic Transmission only
9. Dodge Charger SRT8
Last but not least we have the first generation Dodge Charger SRT8. Powered by a 6.1 L Hemi V-8 engine the SRT8 makes 425 hp and 420-pound feet of torque. These power numbers are able to get this massive car to 60 mph in just five seconds and achieve a quarter-mile time of around 13.5 seconds at 106 mph.
Those are some massive numbers for a full-size family sedan. Now admittedly the interior of the first-generation dodge charger is on the cheaper side but that's not why you bought an SRT8. People buy these cars for their massive engine with an amazing sound and impressive performance.
Pair that with the fact that they look absolutely stunning on air suspension and 20-inch wheels and have a massive aftermarket cosmetic support and it's easy to see why the Dodge charger SRT eight it's such an amazing value.
You do have to watch out as some of the 6.1 L Hemi V-8's have oil issues but all in all, this will make a perfect platform for someone that needs a lot of power a lot of space and wants to be able to turn heads either by looks or sound.
Pros:
Great sound
Tons of horsepower and torque
Large aftermarket support
Cons:
Cheaper interior materials
Some HEMI's have expensive issues
10. Honorable Mention: MK6 VW Jetta GLI
Alright, so this one doesn't really qualify as "fast" but we wanted to give it a mention because this is an incredible value for the money. The Jetta GLI is powered by the same turbocharged 2.0-liter four cylinder that is found in the VW GTI but is put into the 4 door sedan body.
That's great and all but why is this car on our list? Well, the GLI is CHEAP! I'm talking sub $6000 cheap. This is crazy because the GTI of this generation tends to hover around $10,000 and the GLI is almost the same car!
The aftermarket support and enthusiast community for these cars is massive and there are endless possibilities for mods. Plus, these engines LOVE to be tuned. You'll see impressive horsepower gains from a simple ECU tune which will make the car so much more fun to drive.
I actually owned one of these cars alongside my MK7 GTI and couldn't believe the performance value you were getting, especially when compared to the GTI.
Pros:
CHEAP!
Great gains from just a tune
Large aftermarket support
GTI in a sedan body
Cons:
Cheaper interior materials
Heavy depreciation
Hopefully, this list gave you some new ideas for cars to shop around for. There are some oddballs on here, but we wanted to shine some light on cars that don't get enough recognition.
Which car is your favorite? Do you have another car that would fit on this list? Let us know in the comments below!