Online Store / Suspension / Air Lift 3P / Air Suspension Kits /
Air Suspension Kits Air Lift Performance 3P Kit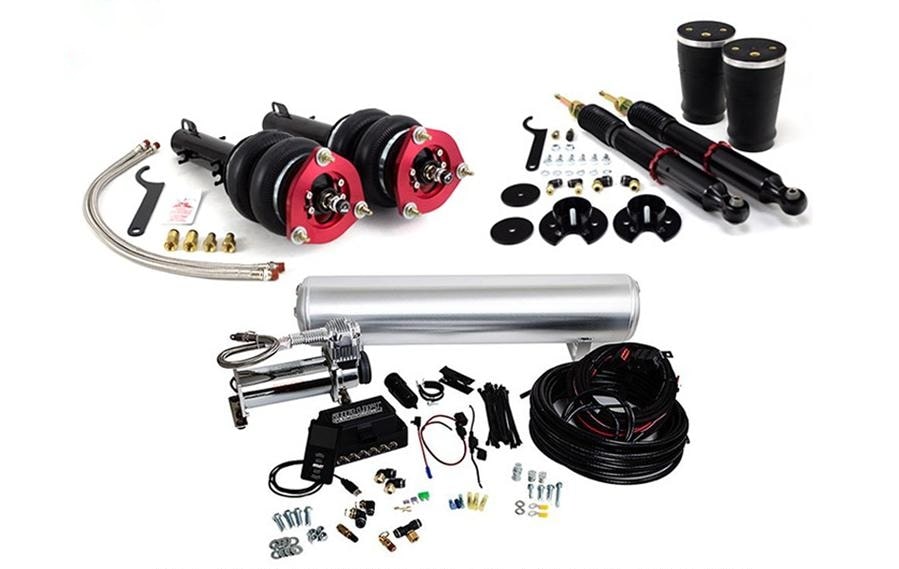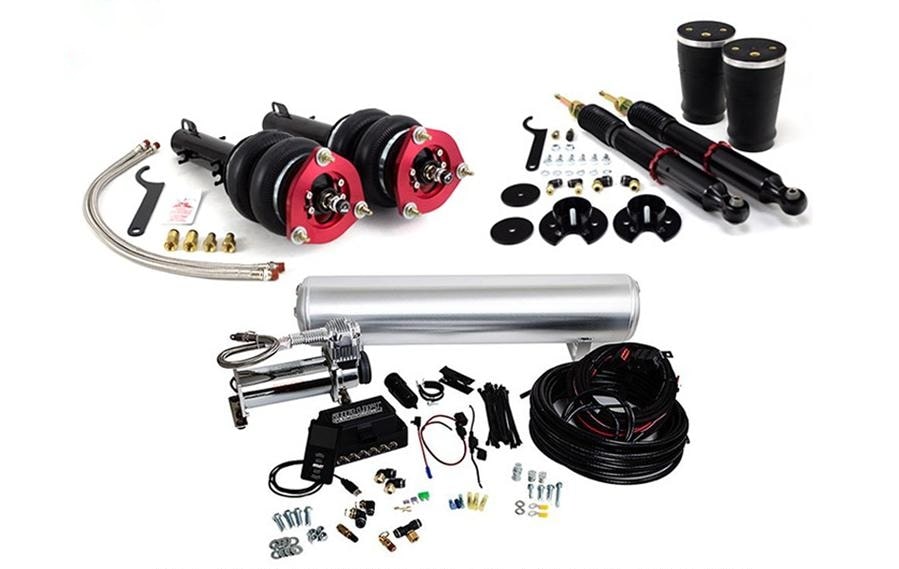 The product images shown are for illustration purposes only and may not be an exact representation of the product.
with Free Shipping to lower 48 States


Part Number
AIRLIFT-17891-75578-75678
Details
If there was ever a vehicle crying to be slammed to the ground, it is the Audi A4. Muscular fenders, crisp lines and space for wide tires makes this a stellar platform for creating one bad Q-ship! If you crave the lowest stance possible and asphalt-hugging handling, your ride needs Air Lift's incredible Performance Air Suspension kit.
This new kit represents a revolution for Air Lift Performance by utilizing an industry first: a 30-way adjustable, monotube shock as the foundation on which to build the finest air suspension. These high-performance shocks dissipate heat faster than twin tube shocks, and provide more consistent damping during hard driving or bumpy road conditions. Another new feature is the adjustable lower perches that allow ride height to be changed-independently from pressure-further increasing the flexibility of these kits. You can dial in the preferred pressure,ride height, and damping combination for fantastic ride or maximum handling, and even adjust for different vehicle weight combinations. They look great too, with bright red anodized accents and shiny black powder coating to protect them for years to come. No one else in the world of air suspension has all these features!
Air Lift has a great history of engineering suspensions that lower cars to the ground, and this latest offering is no exception. The front kit features a serious 4.5" drop from stock height using double bellows air springs over the gorgeous new shocks. The rear kit features an incredible 5" drop and uses a double bellows air spring with a separate shock. These drops are not limited by the shocks, in the case of chassis modifications that are done to go even lower…and we know some of you will go that route.
Coilover suspension can't compete with the versatility of air. With infinitely adjustable ride height, no longer do you need to worry about driveway entrances or speed bumps as you enjoy a lowered car. Forget about the punishing ride that goes with many conventional suspension choices. With a huge range of damping available with the adjuster, you can find the settings you like for your roads. And the handling capability? This was tuned on the racetrack! Back to back tests show a lap time improvement of over one second when compared to the stock OEM suspension. While you may never intend to track your Audi, it's good to know that your car is capable of handling whatever the road throws down.
As the leader in air suspension products for over 60 years, Air Lift is committed to delivering quality parts that last. To ensure longevity for the customer's purchase, the key suspension components have been tested on a durability rig for over one million cycles, which equates to 100,000 miles. With a one-year, unlimited-mileage warranty, you can purchase this kit with peace of mind. Installation is simple, requiring only basic hand tools to complete the job. EVERYTHING is included with the combo kits: front air-over shocks, rear air springs, and tuned shocks, as well as an in-cockpit control system.
What's the bottom line? Great looks, awesome performance, exceptional versatility, proven durability, and easy installation…only from AIR LIFT PERFORMANCE!
MODEL FITMENT
Audi A4 / Quattro (2002-2008)
Audi S4 (2002-2008)
Audi RS4 (2002-2008)
INSTALLATION DETAILS
Modifications Req. Front:

Removal of front bump stop cup. Drill 3/8" hole for damping adjustment. Optional control arm notch, inner fender cut out for maximum drop

Modifications Req. Rear:

Drill 3/8" hole for damping adjustment
What's Included
(1) AIRLIFT-75578: Front Kit
(1) AIRLIFT-75678: Rear Kit
(1) AIRLIFT-27680: 3P Air Management
(1) AIRLIFT-34839: Fitting Kit
(1) AIRLIFT-20250: Additional 50 feet 1/4" air line kit
---
---
About Us
We are dedicated to helping you find the perfect fitment for your ride while also bringing you the highest quality, affordable aftermarket parts in the world! We are truck and car enthusiasts who build their dream rides with these very products.
Shipping
Shipping times will varying depending on item and immediate availability. Many kits will ship in 3-7 business days while some other items will ship in 3-10 business days. We will email the tracking number to you within 24 hours once it ships to you, so you can easily track your package(s) from the us to your door. All shipping prices are based on the lower 48 states unless specified otherwise. Always inspect your items immediately upon receipt.
Warranty
All manufacturer warranties apply and we will support you as the customer in ensuring you get a quality product. For any questions or concerns please email shop@fitmentindustries.com NOTE: Returns not related to a warranty issue may result in a 20% shipping, handling, and restocking fee. Please also note that you have 30 days from the delivery date to inventory and verify suspension components. You must contact us within this 30 day period in order to have missing/damaged parts sent to you free of charge. After 30 days from date of delivery any missing parts or damaged parts will be the customers expense to replace and/or fix.
WARNING: Cancer and Reproductive Harm - p65warnings.ca.gov.
See More Air Suspension Kits See Wheel & Tire Packages See all Store Items Wholesale Program