BC Racing BR Series Coilovers (VA2)

F-25-BR
Be the first to review this product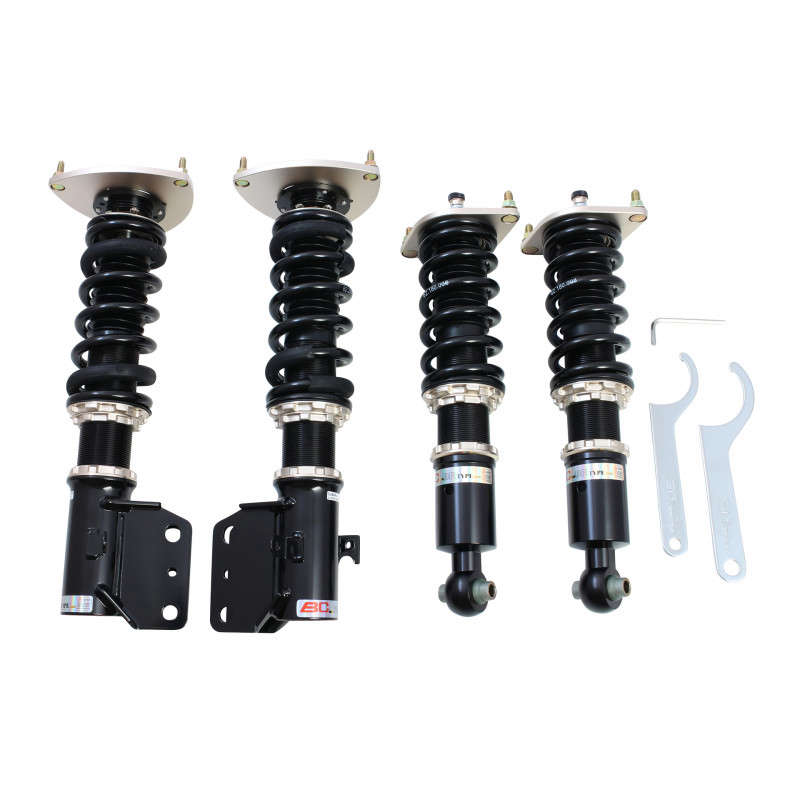 The product images shown are for illustration purposes only and may not be an exact representation of the product.
Shop By
Free Lowered Shirt Included
Free shipping to the lower 48
Suspension available for quick delivery
Part Number
BC-F-25-BR
Details
The BC Racing BR Series offers the most affordable entry into coilover suspension without sacrificing performance, comfort, build quality, vehicle height, or handling. This is done by extensively testing each vehicle then refining the coilover characteristics as many times as needed to ensure the most well-balanced and affordable aftermarket suspension conceivable. BC Racing takes great pride in choosing spring rates for our off-the-shelf kits that strike the perfect balance between comfort and performance so you're never stuck with an oversprung suspension like many other brands sell. BC Racing offers one of the widest ranges of damping adjustment with 30-clicks of compression/rebound adjusted simultaneously on the BR Series. With meticulously chosen spring rates, damper valving, and one of the widest adjustment ranges in the industry, you can't go wrong with the BC Racing BR Series Coilover System.
Highly Customizable
Mono-Tube Shock Design
Linear Piston And Damping Curve
Height Adjustment Independent Of Spring Compression
30-Clicks Of Simultaneous Compression/Rebound Adjustment
Front Camber Plates Standard On Applicable Kits
Rear Camber Plates Available For Applicable Kits
Custom Spring Rates And Swift Springs Available
Custom Valving Or Valving Paired For Custom Spring Rates
1-Year Warranty Against Manufacturers Defect
Fully Rebuildable
**Please note that not all vehicles use camber plates in the front and/or rear. Some vehicles reuse OEM upper mounts.
IMPORTANT DISCLAIMER:
The Swift Springs and/or Extreme Low Variant are custom made and carry a 6-8 week lead time.
What's Included
(4) - Coilovers
Fitment
2020 Subaru WRX Base AWD
2020 Subaru WRX Limited AWD
2020 Subaru WRX Premium AWD
2019 Subaru WRX Base AWD
2019 Subaru WRX Limited AWD
2019 Subaru WRX Premium AWD
2018 Subaru WRX Base AWD
2018 Subaru WRX Limited AWD
2018 Subaru WRX Premium AWD
2017 Subaru WRX Base AWD
2017 Subaru WRX Limited AWD
2017 Subaru WRX Premium AWD
2016 Subaru WRX Base AWD
2016 Subaru WRX Limited AWD
2016 Subaru WRX Premium AWD
2015 Subaru WRX Base AWD
2015 Subaru WRX Limited AWD
2015 Subaru WRX Premium AWD
2020 Subaru WRX STI Base AWD
2020 Subaru WRX STI Limited AWD
2020 Subaru WRX STI S209 AWD
2019 Subaru WRX STI Base AWD
2019 Subaru WRX STI Limited AWD
2018 Subaru WRX STI Base AWD
2018 Subaru WRX STI Limited AWD
2018 Subaru WRX STI Type RA AWD
2017 Subaru WRX STI Base AWD
2017 Subaru WRX STI Limited AWD
2016 Subaru WRX STI Base AWD
2016 Subaru WRX STI Limited AWD
2016 Subaru WRX STI Series.HyperBlue AWD
2015 Subaru WRX STI Base AWD
2015 Subaru WRX STI Launch Edition AWD
2015 Subaru WRX STI Limited AWD
**This part fits a ton of vehicles, so let's check to see if it fits yours. Don't see it on the list above? No worries, type your vehicle in the search bar above to see the full list of compatible vehicles.**
---
About Us
We are dedicated to helping you find the perfect fitment for your ride while also bringing you the highest quality, affordable aftermarket parts in the world! We are truck and car enthusiasts who build their dream rides with these very products.
Shipping
Shipping times will varying depending on item and immediate availability. Many kits will ship in 3-7 business days while some other items will ship in 3-10 business days. We will email the tracking number to you within 24 hours once it ships to you, so you can easily track your package(s) from the us to your door. All shipping prices are based on the lower 48 states unless specified otherwise. Always inspect your items immediately upon receipt.
Warranty
All manufacturer warranties apply and we will support you as the customer in ensuring you get a quality product. For any questions or concerns please email shop@fitmentindustries.com NOTE: Returns must be requested within 14 days of delivery. Any returns requested after this time due to buyer's remorse or purchasing errors cannot be approved. Returns not related to a warranty issue may result in shipping, handling, and restocking fees. Please also note that you have 14 days from the delivery date to inventory and verify BC Racing suspension components. You must contact us within this 14 day period in order to have missing/damaged parts sent to you free of charge. After 14 days from date of delivery any missing parts or damaged parts will be the customers expense to replace and/or fix.
WARNING: This product can expose you to Nickel, which is known to the State of California to cause cancer, birth defects, or other reproductive harm. For more information, go to p65warnings.ca.gov.
See More Coilovers
See Wheel & Tire Packages
See all Store Items
Wholesale Program