Air Lift Performance 3H Kit with Universal Air Suspension Struts

11-S-Toyota-Camry-0711-3H
Be the first to review this product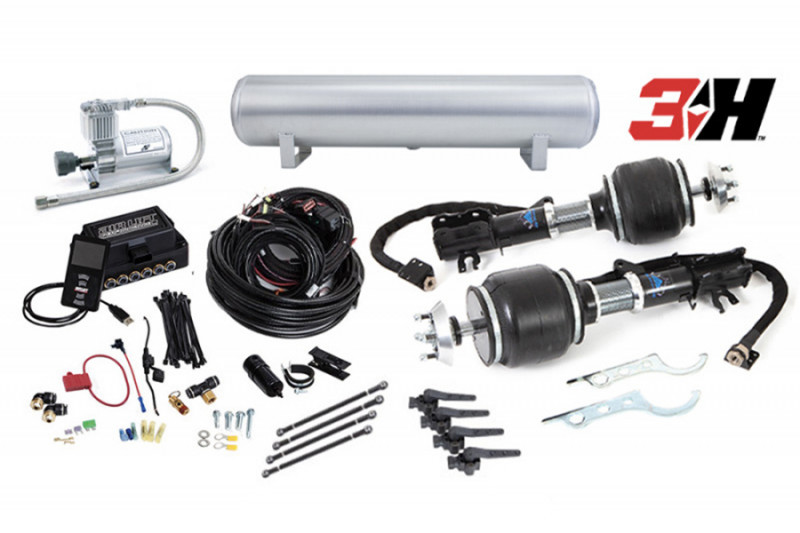 The product images shown are for illustration purposes only and may not be an exact representation of the product.
Shop By
Free Lowered Shirt Included
Free shipping to the lower 48
Part Number
11-S-Toyota-Camry-0711-3H
Details
Air Lift 3H Management is the flagship air management product offered by Air Lift Performance. In addition to the mobile app, easy installation process, and Limited Lifetime Warranty, you get tons of function and control options beyond other product offerings from Air Lift. Not only are you able to see and control the pressure of each corner, 3H Management system also enables the control module to adjust to increased load through the included height sensors. This means that you can load up all your friends, and still have a smooth ride, with all of the style you expect from an Air Lift Performance equipped vehicle.
The Solution Series, offered as a part of the Universal Air Suspension product line, provides a vehicle specific air spring and strut combination that increases comfort, performance, and fits perfectly. Using a sleeve style air bag, UAS struts allow your vehicle to be aired out all the way to the ground, while maintaining tire clearance and suspension travel.
With the option of either 1/4" or 3/8" air line, Air Lift Air Management products are designed to provide only the best options for your application. Just like the rest of Air Lift Performance products, the choice is yours!
What's Included
Front and Rear Air Struts: 11-S-Toyota-Camry-0711
3H Management
4 Gallon Tank with Choice of Finish
VIAIR 444C Chrome Compressor
Water Trap
4 Height Sensors
Airline and Fitting Pack
Fitment
2011 Toyota Camry Base FWD
2011 Toyota Camry Hybrid FWD
2011 Toyota Camry LE FWD
2011 Toyota Camry SE FWD
2011 Toyota Camry XLE FWD
2010 Toyota Camry Base FWD
2010 Toyota Camry Hybrid FWD
2010 Toyota Camry LE FWD
2010 Toyota Camry SE FWD
2010 Toyota Camry XLE FWD
2009 Toyota Camry Base FWD
2009 Toyota Camry Hybrid FWD
2009 Toyota Camry LE FWD
2009 Toyota Camry SE FWD
2009 Toyota Camry XLE FWD
2008 Toyota Camry CE FWD
2008 Toyota Camry Hybrid FWD
2008 Toyota Camry LE FWD
2008 Toyota Camry SE FWD
2008 Toyota Camry XLE FWD
2007 Toyota Camry CE FWD
2007 Toyota Camry Hybrid FWD
2007 Toyota Camry LE FWD
2007 Toyota Camry SE FWD
2007 Toyota Camry XLE FWD
**This part fits a ton of vehicles, so let's check to see if it fits yours. Don't see it on the list above? No worries, type your vehicle in the search bar above to see the full list of compatible vehicles.**
---
About Us
We are dedicated to helping you find the perfect fitment for your ride while also bringing you the highest quality, affordable aftermarket parts in the world! We are truck and car enthusiasts who build their dream rides with these very products.
Shipping
Shipping times will varying depending on item and immediate availability. Many kits will ship in 3-7 business days while some other items will ship in 3-10 business days. We will email the tracking number to you within 24 hours once it ships to you, so you can easily track your package(s) from the us to your door. All shipping prices are based on the lower 48 states unless specified otherwise. Always inspect your items immediately upon receipt.
Warranty
All manufacturer warranties apply and we will support you as the customer in ensuring you get a quality product. For any questions or concerns please email shop@fitmentindustries.com NOTE: Returns not related to a warranty issue may result in a 20% shipping, handling, and restocking fee. Please also note that you have 30 days from the delivery date to inventory and verify suspension components. You must contact us within this 30 day period in order to have missing/damaged parts sent to you free of charge. After 30 days from date of delivery any missing parts or damaged parts will be the customers expense to replace and/or fix. For additional information: Click Here
WARNING: This product can expose you to Nickel, which is known to the State of California to cause cancer, birth defects, or other reproductive harm. For more information, go to p65warnings.ca.gov.
See More Air Lift 3H
See Wheel & Tire Packages
See all Store Items
Wholesale Program