AccuAir Suspension Ultimate Kit w/ D2 Racing Struts

D-MA-22-ART-AA-Ultimate
Be the first to review this product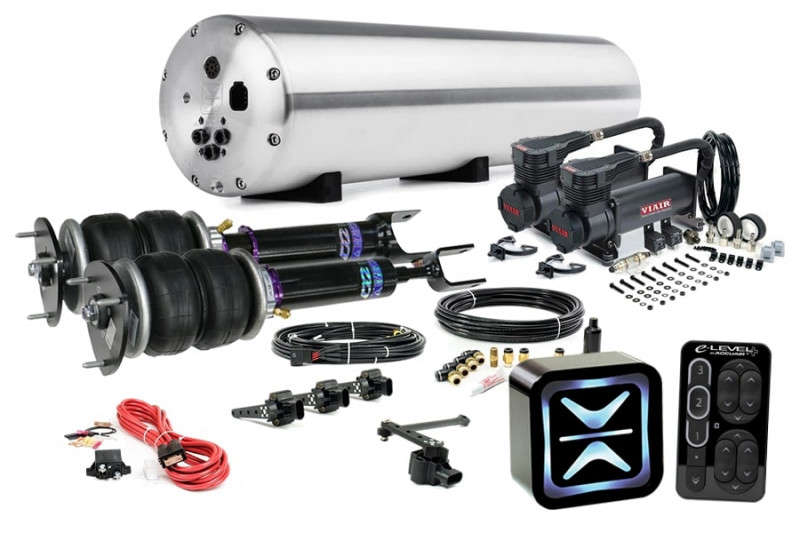 }
The product images shown are for illustration purposes only and may not be an exact representation of the product.
Shop By
Free Lowered Shirt Included
Free shipping to the lower 48
Part Number
D-MA-22-ART-AA-Ultimate
Details
If you're looking for the best of the best when it comes to a complete air suspension system, look no further than the AccuAir Ultimate Package. This top-tier air suspension system features colored LED compressor indicators, ENDO-VT valve integrated air tank and tank caps, a permanent magnetic motor, an e+ Connect with an ECU+ wireless switch box, an e-Level+ app, right height sensors, and the AccuAir TouchPad+. This system allows the driver full control over their ride height through their e+ Connect system with three pre-programmed heights, lowered, ride height, and raised, using the TouchPad+. The AccuAir Ultimate Package cuts 0 corners and provides one of the highest quality air suspension setups on the market.
D2 Racing air struts offer a multi-adjustable height tuning, through both the adjustable threaded body as well as the air bag portion of each strut. D2 struts have a 36-level damping adjustment available, for the ultimate in fine tuning for your vehicle's suspension. When paired with an air management system, D2 Racing Air Struts offer the most customizable and tunable air suspension solution for your application.
What's Included
Set of D2 Racing Struts
ECU+, Harnesses, Tank Pressure Sensor, and Hardware
ENDO Valve-Tank - 4-Corner, 5-gal Bolted Aluminum Air Tank w/Raw Finish
e+ Height Upgrades: Height Sensors, Harnesses, and Hardware
e+ TouchPad
3/8" DOT/PTC Fitting Kit
VIAIR 485C Air Compressor (Dual Pack) - Stealth Black
Compressor Power Kit
Fitment
2003 Ford Escort ZX2 FWD
2002 Ford Escort SE FWD
2002 Ford Escort ZX2 FWD
2001 Ford Escort SE FWD
2001 Ford Escort ZX2 FWD
2000 Ford Escort LX FWD
2000 Ford Escort ZX2 FWD
2000 Ford Escort ZX2 S/R FWD
1999 Ford Escort LX FWD
1999 Ford Escort SE FWD
1999 Ford Escort ZX2 Cool Coupe FWD
1999 Ford Escort ZX2 Hot Coupe FWD
1999 Ford Escort ZX2 S/R FWD
1998 Ford Escort LX FWD
1998 Ford Escort SE FWD
1998 Ford Escort ZX2 Cool Coupe FWD
1998 Ford Escort ZX2 Hot Coupe FWD
1997 Ford Escort Base FWD
1997 Ford Escort LX FWD
1997 Ford Escort Sport FWD
1996 Ford Escort Base FWD
1996 Ford Escort GT FWD
1996 Ford Escort LX FWD
1996 Ford Escort Sport FWD
1995 Ford Escort Base FWD
1995 Ford Escort GT FWD
1995 Ford Escort LX FWD
1995 Ford Escort LX Sport FWD
1994 Ford Escort Base FWD
1994 Ford Escort GT FWD
1994 Ford Escort LX FWD
1994 Ford Escort LX Sport FWD
1993 Ford Escort Base FWD
1993 Ford Escort GT FWD
1993 Ford Escort LX FWD
1993 Ford Escort LX Sport FWD
1993 Ford Escort LX-E FWD
1992 Ford Escort Base FWD
1992 Ford Escort GT FWD
1992 Ford Escort LX FWD
1992 Ford Escort LX Sport FWD
1992 Ford Escort LX-E FWD
1991 Ford Escort Base FWD
1991 Ford Escort GT FWD
1991 Ford Escort LX FWD
1991 Ford Escort LX Sport FWD
1997 Kia Sephia GS FWD
1997 Kia Sephia LS FWD
1997 Kia Sephia RS FWD
1996 Kia Sephia GS FWD
1996 Kia Sephia LS FWD
1996 Kia Sephia RS FWD
1995 Kia Sephia GS FWD
1995 Kia Sephia LS FWD
1995 Kia Sephia RS FWD
1994 Mazda 323 Base FWD
1993 Mazda 323 Base FWD
1993 Mazda 323 SE FWD
1992 Mazda 323 Base FWD
1992 Mazda 323 SE FWD
1991 Mazda 323 Base FWD
1991 Mazda 323 SE FWD
1990 Mazda 323 Base FWD
1990 Mazda 323 SE FWD
1995 Mazda MX-3 Base FWD
1994 Mazda MX-3 Base FWD
1994 Mazda MX-3 GS FWD
1993 Mazda MX-3 Base FWD
1993 Mazda MX-3 GS FWD
1993 Mazda MX-3 SE FWD
1992 Mazda MX-3 Base FWD
1992 Mazda MX-3 GS FWD
1991 Mazda Protege 4WD 4WD
1990 Mazda Protege 4WD 4WD
1994 Mazda Protege Base FWD
1994 Mazda Protege DX FWD
1994 Mazda Protege LX FWD
1993 Mazda Protege DX FWD
1993 Mazda Protege LX FWD
1992 Mazda Protege DX FWD
1992 Mazda Protege LX FWD
1991 Mazda Protege DX FWD
1991 Mazda Protege LX FWD
1990 Mazda Protege LX FWD
1990 Mazda Protege SE FWD
**This part fits a ton of vehicles, so let's check to see if it fits yours. Don't see it on the list above? No worries, type your vehicle in the search bar above to see the full list of compatible vehicles.**
---
About Us
AccuAir Suspension delivers next generation air suspension control for automotive applications by designing and manufacturing one of the most accurate air suspension controllers in the world. Our technology innovations allow end users like you to drive comfortably and consistently, knowing that the core of every AccuAir system has been proven on more than 40,000 vehicles over 10 years. Our products are easy to use, easy to install, and industry trusted since 2001.
Shipping
Shipping times vary depending on item and immediate availability. Many suspension kits will ship out within 3-5 business days while some select items may take up to 7-10 business days. You will receive the tracking information via email as soon as it is available so you can easily track your package(s) from us, to your door. Keep in mind, some suspension components may ship separately and could arrive at different times. All shipping prices are based on the lower 48 states unless specified otherwise. Always inspect your items immediately upon receipt and notify us within 5 business days if there are any concerns, damages, or missing items.
Warranty
AccuAir Suspension offers a Limited Lifetime Warranty on all AccuAir branded control systems products (including controllers, touchpads, height sensors, manifolds, tanks and accessories) and a One-Year Limited Warranty all non-AccuAir branded products and all other non-control system items (including compressors, shocks and springs). AccuAir offers a 30-day Return Policy on any unused and uninstalled products. AccuAir parts are aftermarket products. Any modifications to the products, improper installation, excessive wear and tear, or use not for the intended application voids the warranty. AccuAir does not warranty air suspension compressors that have burned out due to air suspension leaks, that have modified pumps or electrical plugs, that have missing labels or that have water damage.
WARNING: This product can expose you to Nickel, which is known to the State of California to cause cancer, birth defects, or other reproductive harm. For more information, go to p65warnings.ca.gov.
See More AccuAir Ultimate
See Wheel & Tire Packages
See all Store Items
Wholesale Program