The world of coilovers can already be kind of confusing especially to some of you that are new to the coilover game. BC Racing is one of the most popular suspension brands on the market today due to their great performance, adjustability, and price. However, we get asked all the time which series of BC Racing coilovers you should buy. There's not much out there in terms of the differences of their different coilovers so we decided to make one big guide to help you find the best BC Racing coilovers for your lifestyle!
1. V1 Series
Starting off at the entry-level, the V1 Series is the most budget-friendly option that BC Racing offers. These will still get you the adjustable ride height and dampening but won't be as adjustable as the others on this list. If you just want a solid coilover that will get you low and perform decently when you throw the car around, this would be a perfect way to get a name brand like BC Racing at a fantastic price.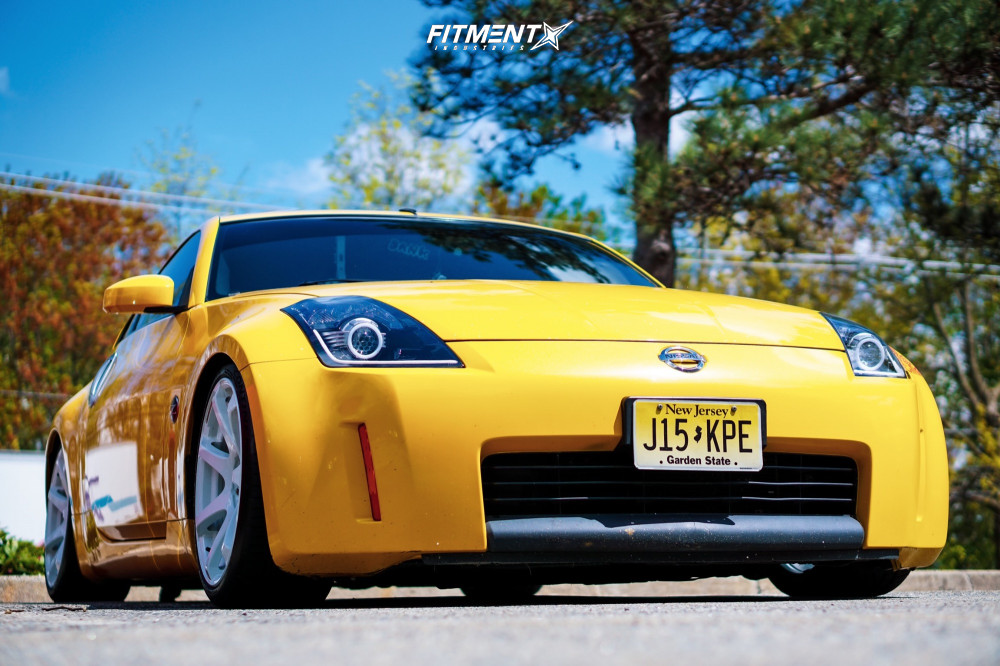 2. BR Series
The BR Series Model is the perfect choice for street driving and the occasional road course or autocross duty. With easily accessible adjustment knobs for fine-tuning compression and rebound, ride height adjustment independent of shock stroke and spring preload, having a performance coilover system has never been easier. The driver chooses how low or high the vehicle sits (no preset ride height here!) and a BC Racing patented concave lower locking ring keeps it locked securely in place. Most systems can be upgraded to pillowball mounts to proved the most feedback possible from the suspension and to sharpen steering response. BC Racing front camber plates also allow a driver to get the perfect alignment setup without compromise. This is the most popular series that BC Racing offers.
3. RM Series
The RM Series has a lot of the same features of the BR Series coilovers such as the adjustable ride height and dampening, however, there is one big difference. The RM Series coilovers feature an inverted monotube damper. If you're not super technically inclined, we'll simplify it for you a little bit. This configuration moves the damper fluid away from the heat of your braking system. As we all know, heat is bad. This allows the fluid to stay cooler and provide better cornering and stability. The RM Series is designed for a track application so it's probably best to throw these on your weekend racecar.
4. ER Series
The ER uses the same damper but now implements an external reservoir on all four corners for the fluid. You've probably seen this style of coilover before as they typically look pretty cool when they're installed. BC Racing uses the external reservoir to keep the fluid even cooler by placing it even further from the braking system while allowing you to use more dampening fluid. The result of this is a coilover that is able to take the rigorous punishment of the racetrack for a much longer amount of time while being less likely to overheat. The reservoir also allows your rebound and compression to be adjusted independently giving you complete control over your suspension. This should be used for hardcore racing applications.
5. DS/DR Series
The DS Series was previously known as the DR Series so this will apply to both. The way this setup works is super interesting. These coilovers have what's called a Digressive Piston inside them. This piston allows the coilovers to make adjustments based on speed and road conditions. During high speeds, the coilovers stiffen to reduce body roll when you're taking a fast corner, but they will also soften when you encounter things like a pothole or poor road conditions to soften the ride. They will also allow more travel at low speeds to allow you to roll into corners. This series is perfect for your autocross or track day car that may sometimes encounter some bumpy surfaces. They allow great performance at any speed and the adaptation means that there is less of a chance of upsetting the car during cornering or acceleration.
6. HR Series
This series is essentially the same as the ER Series as it uses the inverted damper and external reservoirs to reduce the most heat, however, these now offer 2-way adjustable dampening on the external reservoirs. If you like what the ER Series offers but you want a little more adjustment, then the HR Series will be what you want to look at. They also offer the same amount of adjustment for rebound and compression. These coilovers will stay cool during a hard day at the track and offer a little more customization when compared to the ER Series.
7. ZR Series
Last but certainly not least, we have BC Racing's newest and most advanced addition, the ZR Series. These are 3-way adjustable coilovers that are focused purely on racing. While all of the other coilovers on this list offer 30-way adjustability for rebound, the ZR Series also gives you 15-way low-speed compression and 12-way high-speed compression adjustability. Of course, all of the adjustments on this series are completely independent so that you have the absolute most adjustability possible. These coilovers are designed to strictly be used on racecars as they can be tweaked to almost any possible preference. These can make an astonishing difference in the way your car performs on the track. These are BC Racing's most impressive coilovers yet.
We hope this helped you pick out which BC Racing coilovers are right for your build. As you can see, they have something for everyone and with a name like BC Racing, you know that they're going to be worth every dollar.